Business Casual Comfortable Walking Shoes
In my search for nice shoes to wear in the city after and during work, I found the Ra from VivoBarefoot. These shoes are fit for the office but they have two advantages that make them nice to wear to work if you are planning to go on a before or after work, or if you simply have a long hike from the transportation you take to the office.
These shoes are extremely light on your foot and they do not wear you down as you walk. They are also made to have a very comfortable step. My foot literally got the best of both worlds of having a nice grip on the pavement with lots of traction, but also not feeling the pavement too much on my feet, and still being comfortable, especially after a few wears which is when a typical shoe gets a bit broken down and becomes more comfortable.
Another great feature of the shoe is that while it has a very thin but comfortable sole, the sole is made with special technology that protects the thin sole from being punctured if you do happen to venture out to a little bit rougher terrain.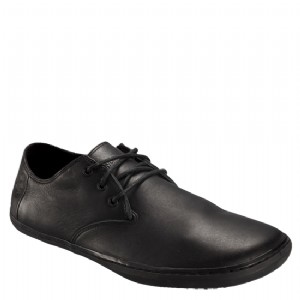 Everything about the shoe is optimized to be light-weight and comfortable. Even the laces are relatively short and light compared to other types of laces that could have been used. The shoe is made to fit comfortably on your foot and mold to it over time, feeling almost like a sandal while being appropriate for a work environment and allowing you to get some light exercise when you want to.
Learn more about these shoes
I found these shoes at an inline store called NatureShop. They have a nice selection of different light and sporty shoes for the outdoors. Take a look at their selection for both men and women in their mens and womens VivoBarefoot section.